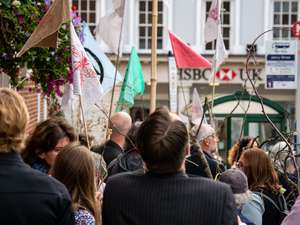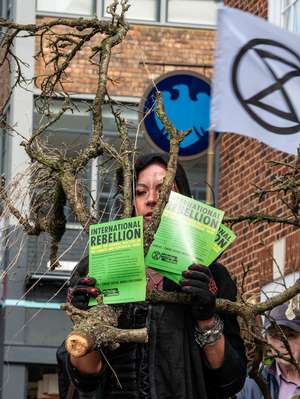 Around 30 XR Winchester activitists staged demonstrations and die-ins at 2 banks in Winchester city centre on Amazon Day (5th September).   HSBC and Barclays were targeted because they are enabling rainforest destruction in the Brazilian Amazon. Some of us staged a 'die-in' inside the banks, while others spoke to Barclays and HSBC customers, urging them to move their accounts to ethical banks.  We carried plants and dead branches to represent the forest.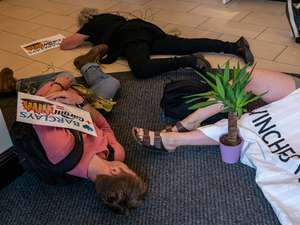 Both banks have for years made profits by lending to companies clearing the Amazon rainforest for beef and soya production. This comes at a huge environmental cost. As the world's largest rain forest, the Amazon provides 20% of our oxygen, houses 10% of the planet's biodiversity, and helps stabilise the global climate. Life on earth needs it to survive.
An XR spokesperson said, 'Everyone should be concerned about what is going on. People should demand to know why their banks and pension funds are contributing to this. They are just as responsible for this disaster as the companies they lend to.'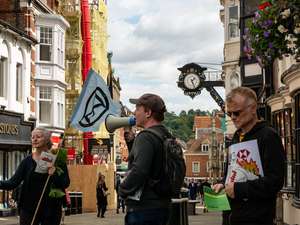 It is also critical that before the upcoming G7 Summit, the United Nations General Assembly meeting and Climate Week, this issue is top of the agenda and that international pressure is brought to force Brazil to address the urgent need to suppress the fires, protect the Amazon and respect the rights of indigenous peoples and their territory.
'Amazon Day' was initiated by the campaigning and research organisation Amazon Watch, and Extinction Rebellion, with the National Articulation of the Indigenous Peoples of Brazil. Its purpose is to highlight the impact of the terrifying destruction on local people and wildlife, the implications for the rest of the planet, and to put pressure on those responsible. A host of the world's most powerful companies are implicated either through investment, lending or purchasing of agricultural goods. Pressure on these companies can influence their future actions, and the policies of the government of Brazil.
For more information on the situation and what is causing it, see the Amazon Watch website