Code RED March for Humanity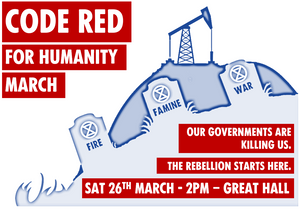 The UN has declared CODE RED for humanity. Our governments are killing us.
Let's make it loud and clear that we won't just stand by and watch.  Join the CODE RED march through the streets of Winchester on Saturday 26th March 2pm, meeting at the Great Hall! We'll be joined by the XR Southampton samba band, we're going to make a lot of noise!  This crisis cannot be ignored!
We want you to make a grave headstone to really bring the crisis home to the people of Winchester.  But we know we can still turn this crisis around and avoid the worst impacts of global heating so we want you to have a strong positive message on the other side of your grave headstone.  Just a grab a big bit of cardboard and cut out a headstone shape, be as creative as you want, here's some examples: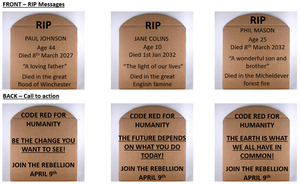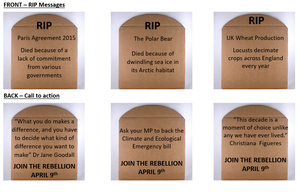 Please mention the forthcoming April Rebellion on the call to action side.  Come dressed in dark colours with a flash of red if you can.
Let's make this as big, loud and impactful as we possibly can.  Tell your friends, family and colleagues.  See you on the streets!
Planning to come? Let us know below so we can keep in touch: