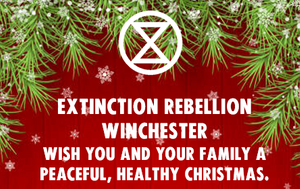 Since the September Rebellion, we have been very busy indeed.  2020 has been a tragic year for so many of us but XRW have stuck together throughout and now we're even stronger and more determined.
The climate crisis becomes more urgent by the day and yet the government remains woefully uncommitted to tackling it.  
Currently, the government is planning to invest a mere £12bn on climate change in contrast to £127bn on carbon-emitting transport projects. Boris' ten-point "Environmental Revolution" is lacking substance and relies on fairytale technologies. The ban on Heathrow's expansion has also been lifted. But where there is so much gloom there is also hope. The
 Climate and Ecological Bill (CEE Bill) 
offers a robust and fair pathway to net-zero that puts ecosystems at its core. The bill now has the support of 85 MPs, but right now, no Conservative MPs support the bill - that has to change. Read more 
here
.
What have we been up to?
We've spent alot of time planning our Lost Campaign which focuses on the plight of our species and ecosystems, both locally and globally. Look out for our big action in early spring.  
We've been campaigning on transport - continuing to demand 
Safer Streets
 for all and encouraging the council to be bolder.  Read our recent deputation to Winchester City Council 
here
.  We'll continue to scrutinise local transport plans in 2021 and make sure climate change is at their core.
We've been working hard on our 
Dirty Money
 campaign - aimed at getting the Hampshire Pension Fund to divest from fossil fuels. You can read our recent deputation to the pension fund 
here
. We have big plans for 2021 including working with Unison to ratchet up the pressure.
Lastly, we've been planning a campaign to support the 
CEE Bill 
locally, something XR groups up and down the country are doing. Right now we're working on a short film to promote the bill and then we'll get to work on forming a CEE Bill Alliance across the city. We want the CEE Bill to become legislation and we intend to pull out all the stops to make it happen.  Sign up for more info on the CEE Bill 
here
. We've also been promoting the CEE Bill by singing climate carols in the high street, tune in 
here
.
What about next year?
With COP26 in December 2021 and with the CEE Bill providing a clear path ahead, we have an unparalleled opportunity to build pressure on our government both locally and nationally to ACT NOW. Let's make 2021 the year that's remembered for the right reasons.

Click here to get involved. Be the change.
With love and rage,


Extinction Rebellion Winchester