Dirty Money Campaign - Deputation to the Hampshire Pesion Fund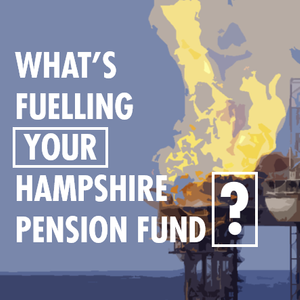 Hampshire Pension Fund Deputation - 25th September 2020
Good Morning everyone. I am here today representing the Dirty Money Campaign Group which is entirely focused on the investment activities of the Hampshire Pension Fund and wider Access Pool.  Our group is comprised of environmental campaigners, industry experts and Hampshire Pension Fund members.
We expect the Hampshire Pension Fund to be using the power of pension assets to cut our global carbon footprint and thereby secure against stranded assets and influence a transition away from a carbon based society.  
According to recent research, making our pensions sustainable is 27 times more efficient in reducing carbon footprints than making individual lifestyle changes (1). Guy Opperman, the Minister for Pensions and Financial Inclusion talks about letting loose the "productive power of our pensions" to reach net zero (2). 
The Hampshire Pension Fund annual report and responsible investment statement shows that the fund has begun to make some progress in accordance with the requirements of Environmental, Social and Governance principles having moved thirteen percent of equity investment into a climate tracker fund that favours lower carbon emissions. We are aware that the Fund has also employed a responsible investment consultant to help managers improve its understanding of and adherence to ESG principles. However, it is unacceptable that the resulting report has not been communicated to the fund members or to the public. 
In October of this year, the Responsible Investment Sub Committee meeting expressed a desire to be as transparent as possible about reporting of ESG issues. Therefore, it is expected that the annual report provided to its members should contain a clear climate position statement.  Members of the Pension Fund have previously requested that the Fund start to develop their investment reporting in line with the Task force for Climate-related Financial Disclosures. Something that the Department of Pensions itself will mandate for in the upcoming Pensions Scheme Bill currently progressing through Parliament(3).

The Bank of England has stated that every professional financial decision will need to take climate change into account in order to keep to the Paris agreement goals of limiting our temperature increase to 1.5c (4).  The pension fund has the ability to look after its member's financial future and at the same time use its influence to make a positive impact on the world. There is no longer a reason to believe that excluding all fossil fuel investments damages investment performance. In fact, renewable and sustainable investments present many investment opportunities.  There are now numerous models and examples of how pension funds can make a transition towards sustainable investments, such as the Net Zero Asset Owner Alliance.
The Net Zero Asset Owner Alliance is an international group of 30 institutional investors delivering on a bold commitment to transition their investment portfolios to net-zero greenhouse gas emissions by 2050.  It  comprises insurers and pension funds including Aviva and the Church of England.  Representing 5 trillion dollars of assets, the alliance demonstrates investors aligning their portfolios with a 1.5°C scenario, addressing Article 2.1c of the Paris Agreement.  Convened by the UN Environmental Programme Finance Initiative and the Principles for Responsible Investment, the Alliance is supported by WWF and is part of the Mission 2020 campaign.  
The alliance's chair, Günther Thallinger, a board member of the financial services company Allianz, said: "Alliance members start out by changing themselves and then reach out to various companies to work on the change of their businesses.  Reaching net zero is not simply reducing emissions and carrying on with the business models of today. There are profound changes and opportunities that will come from the net-zero economy.  We see new business opportunities and strong wins for those who are ready to lead."
Analysis by the respected German group, Right, concluded that Investments in European companies with goals aligned to the Paris climate agreement outperformed the market as a whole by more than 60 percent (5).
In 2019 Mark Carney warned that the global financial system is financing industries and activities that will raise the global temperature to 4'C above pre-industrial levels which is not consistent with life as we know it. He said "climate change could make vast reserves of oil, coal and gas "literally un-burnable"(6).  It is therefore not only financially prudent to divest from companies that are driving climate change but a moral imperative. 
Every day that we do not act we are failing ourselves and more critically our children and grandchildren.  Hampshire Pension Fund must play its part in tackling this existential crisis. 

The Dirty Money campaign calls on the Hampshire Pension Fund to:
Produce a position statement on managing its portfolios to align with the Paris agreement of limiting our temperature increase to 1.5c

Create a strategy and timetable for achieving this alignment

Report in plain English, consult and be advised by its members on its investment principles and how they are achieved

Call on members of the Access Pool to become members of the

Net Zero Asset Owner Alliance

 
Our campaign group intends to work tirelessly with pension members and our partners such as Unison in order to ensure that the Hampshire Pension Fund and wider Access Pool not only align with the Paris agreement but also provide complete transparency on this journey to achieve this.
Finally, I would like to draw your attention to a recent Australian lawsuit, McVeigh vs Rest, in which a pension fund member took legal action against his pension fund for failing to act on climate-related financial risks.  The fund committed to an investment portfolio compatible with net zero carbon emissions by 2050 and a range of short term measures. Hampshire Pension Fund and the Access Pool would do well to anticipate the potential for legal action to be taken in a similar vein by any of its members.
Thank you.
ENDS
1 Nordea Group sustainable finance research; calculation based on approximately £800 per year pensions contributions over a 42-year career, yielding 9.3% annually and compounded
2 Guy Opperman MP – We Can Get To Net Zero By Unleashing The Productive Power Of Our Pensions. https://www.bankofengland.co.uk/news/2020/february/cop26-private-finance-agenda-launched
3 
https://www.wsj.com/articles/u-k-moves-to-require-pensions-to-disclose-climate-change-plans-11581508142
 4
https://www.bankofengland.co.uk/news/2020/february/cop26-private-finance-agenda-launched
5
https://uploads-ssl.webflow.com/5ddbd8f4d31f0fb0ad6f12fd/5f99aecef133db41b07e5934_Whitepaper_right_FINAL.pdf
6
https://www.ft.com/content/8fdb4768-581c-11e7-9fed-c19e2700005f