Election '21 Winchester Climate Pledges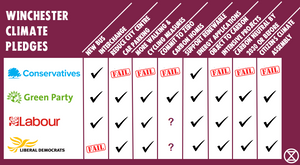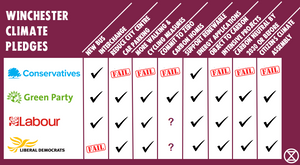 Introduction
Extinction Rebellion Winchester have asked each of the parties where they stand on local issues they regard as crucial for dealing with the climate crisis and that are within the city council's control.
Phil Joyce from the group said "Unless we take unprecedented action right now, we're heading for a world where we'll regularly see extreme flooding, devastating droughts and large-scale crop failures.  May 6th is our chance to vote for politicians who will make climate change a priority."
We asked each party to commit to the following measures: a new bus hub, phasing out inner-city centre parking, more walking & cycling measures, zero-carbon homes, support for renewable energy, objection to new roads and aviation, being carbon neutral by 2030 and lastly a citizens' assembly to give residents a voice on climate change.
Conservatives
The Conservatives backed just two of the eight climate pledges.  They pledged to a new city centre bus hub and also to support new renewable power in the district.  
Unlike the other parties, the Conservatives have not ruled out support for carbon-intensive projects like road building and airport expansion, Caroline said "[the] group supports the neutrality objectives alongside the desire to maintain strong and sustainable economic growth and prosperity in the District".  
The party hasn't backed the parking, walking and cycling pledges and instead Caroline Horrill (Winchester Conservative Group Leader) referenced their support for the Winchester Movement Strategy.  However, this sets the overall direction of transport within Winchester rather than including specific commitments such as the closure of Hyde Street and removing city centre car parking spaces.
Caroline said she sees renewable energy "as part of the climate change agenda". She stressed the importance of them fitting in with the local landscape.
In stark contrast with the other parties, the Conservatives are sticking with 2050 as a target date for carbon neutrality and also believe there are already adequate mechanisms in place for residents to have a voice on climate change.
Phil Joyce of XR commented that "whilst it's encouraging that the Conservatives back a bus hub and also support new renewables, their failure to commit to any of the other pledges is deeply concerning.  These pledges are the bare minimum required to make an impact on climate change locally and the Conservatives are not stepping up to the mark".
Labour 
Winchester Labour backed seven of the eight climate pledges.  
Patrick Davies of Winchester Labour said the party supports a target of carbon neutrality by 2030 "provided low-income families are supported financially to replace gas boilers". 
In a similar vein to the Conservatives, Patrick said "I support renewable energy applications but with a Design Code, to encourage public support in sensitive rural areas of our district.
Labour are concerned about the removal of a proper bus station and believe that the central area surface cars parks should be used for council housing. 
The local Labour party objected to the recent plans to expand Southampton Airport. Patrick found it "astonishing" that the Liberal Democrats national party leader supported the expansion.
They also believe a Citizen's Assembly "would give a more representative cross section of our local community than the present unfair voting system delivers".  
Phil from XR said "it's great to see the local Labour party recognises the magnitude of the crisis and is willing to make such bold pledges".
Green Party
The Winchester Green Party also backed all eight climate pledges.
Max Priesemann from the party said "the science is clear, the sooner we transform our economy to become carbon neutral, the better. Within the limits of the council's remit, we are committed to carbon neutrality before 2030. We want to give people better alternatives, i.e. make public transport more convenient and affordable, reduce the need to travel, insulate homes and reduce waste."
On car parking, Max pointed out that over half of all greenhouse gas emissions in the district come from road transport, therefore it is key that alternative means of transport are promoted where possible.  Car parking within the former city walls should be discouraged, whilst still ensuring enough car parking is available for deliveries and people with disabilities. Closing St Peter's car park would enable the building of much needed council homes.
The party also believes that citizens' climate assembly could give the council a direction on how to plan the next steps on the way to carbon neutrality and keep the public on board with the transition to a sustainable economy for the wellbeing of us all.
Lastly, on the bus station, Max said "that the alternative of roadside bus stops makes it more difficult to change buses and therefore would discourage bus use. Winchester needs a bus interchange station where one can change between local and long-distance buses, ideally close to the train station. A bus station is essential to charge electric buses."
Phil from XR commented that "it's no great surprise that the Green party backed all our pledges but what struck us was their deep understanding and commitment to tackling this crisis".
Liberal Democrats
The Liberal Democrats backed six of the eight climate pledges.
This party is committed to carbon neutrality by 2030. But to meet this target, they believe they need Hampshire County Council to bring forward their target to 2030 too.
On measures to encourage walking and cycling, Cllr Lucille Thompson referred to the recent weekend pedestrianisation of The Square, she said "It is a fantastic space, and with the cafes outside it has a continental feel to it. Councillor Tod spent a lot of time negotiating with local residents and businesses to get it right".
Lucille also commented on the Council's decision to close Hyde Street.  "You will have seen the backlash we have had with the closure of Hyde Street, and that is just a tiny road closure. You need to take people with you. These changes need to be done gradually".
The Liberal Democrats support the principle of a citizens' assembly on climate change.  Lucille said "to achieve real change, a citizens' assembly would need to be wider than the District. Due to budgetary pressures, Winchester City Council would not be able to set this up straight away".
XR asked the Liberal Democrat leader if they would object to carbon-intensive projects, such as airport expansion and road building. Lucille said "We opposed the decision to expand Southampton Airport".
On reducing car parking in the city centre, Lucille said "we are easily going to lose more than 250 parking spaces. St Peter's Car Park is earmarked for development, and at some point, Gladstone Street Car Park will be redeveloped. However, you cannot say nobody is allowed to park in the centre of town".
With regard to creating a new bus hub, the party wants to introduce on-street bus stop provision instead.
Phil from XR commented as follows "It's good to see strong support for the climate pledges from the Liberal Democrats.  However, the absence of a new bus hub is very concerning, demonstrating disregard for bus users and ultimately impacting our transition to sustainable transport.  It's also worrying that we have recently seen a big project signed off by the council which had no carbon assessment completed, despite it being their policy to do so.  That said the party has supported bold improvements to the city centre such as North Walls and The Square.
Ian Tait (independent)
Ian said "Part of the reason why I'm standing as an independent is that I worry about the lack of honest, strong political leadership."

Ian said "The Eastleigh Airport planning app was a case in point. Eastleigh BC should have been brave and refused it but they clearly were worried about a the danger of voters deserting them at the polls."

Ian said "[..] As someone who pretty much walks everywhere pedestrians are treated very badly. We need much better road drainage so we pedestrians don't get soaked by speeding cars when it rains and pavements need to be repaired much more frequently."

Ian said "[..] I am particularly interested in all housing but specifically inclusive and affordable homes so building better more sustainable homes is vital."

Ian said "I have always supported renewables and was hugely disappointed when the main parties refused the wind turbine application in the North of the district."

Ian said "That all said i do recognise that we need to take people with us, those who are less well off must be supported and the climate emergency mustn't be the preserve of the Middle classes."

Ian said "Its vital that we reinforce the message through our schooling of youngsters so they understand why we need to live our lives differently in future."
David Brockless - Reform Party
On parking David Brockless said "Now is not the time to make it harder for our town's retailers. I would like to offer free parking for 2 hours to increase footfall in the city and bring back employment, profits and vibrancy."

On Walking and cycling David Brockless said "I don't agree with the closure of streets causing congestion and fumes elsewhere in order to benefit a few cyclists".

David Brockless from Reform UK felt that "a citizens assembly would be ok if it had an equal number of sceptics as it does climate change devotees".
Pledges
New bus interchange
A big increase in bus usage is critical if we are to reduce the district's most significant source of carbon emissions, transport.  A modern, safe, integrated bus hub will be at the heart of the Central Winchester Regeneration Scheme.  This will have a positive impact on bus travel in Winchester.  The government's Bus Back Better strategy says that bus stations must not be closed. 
---
Reduce city centre car parking
Non-residential car parking in the city centre will be phased out (except blue badge), starting with a reduction by the amount that will be provided at the new Vaultex park and ride site.  This will encourage modal shift and reduce air pollution.
---
More walking and cycling measures
Active Travel Improvements at North Walls, City Centre North-South routes, Upper High Street/High Street and the pedestrian crossing on Romsey Road will be supported.  Additional active travel and pedestrianisation measures will also be supported.  This will encourage modal shift and reduce air pollution.
---
Commit to Zero carbon homes
The Local Plan will require all new buildings to be zero carbon in use.  Sites for new housing will be allocated to keep transport emissions low.
---
Support renewable energy applications
Planning applications for renewable energy schemes such as solar farms and wind turbines will be encouraged as currently our district boasts very little renewable electricity generation.
---
Object to carbon intensive project
Projects that will increase the district's carbon footprint such as new road building, airport expansion and Energy from Waste (Incineration) will be objected to.
---
Carbon neutral by 2030 or before
A commitment to a carbon neutral district by 2030 at the latest will be made.  The district must reduce as much climate-damaging carbon emissions as possible that come from our actions as individuals, organisations, industry, agriculture and business.
---
Citizens' Climate Assembly
A Citizens' Assembly on climate change will provide the council with a real mandate for change.  Citizens' Assemblies allow everyday people, selected at random and given all the facts, to work together to make important decisions. Politicians can then act on these with far less fear of political backlash.