HCC Climate Strategy - major room for improvement.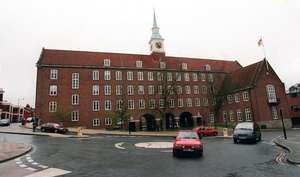 Extinction Rebellion Winchester are currently representing XR groups from across Hampshire at the Hampshire County Council Climate Change Expert Panel. 
You can find the strategy here:
https://www.hants.gov.uk/landplanningandenvironment/environment/climatechange/whatarewedoing/climatechangestrategy
We have many concerns about the council's climate strategy.
Concerns about the baseline
The right baseline is pivotal; the wrong baseline will completely undermine measures to address the climate emergency.  Transport is the biggest emitter across the UK but HCC by exception considers commercial and industrial as the largest.  We have concerns about this outcome and would like complete transparency on how this was derived.  Underlying data and calculations must be in the public domain and we will press for these to be made available.
Bcause HCC commissioned the Carbon Trust to calculate baselines and they have deviated from the BEIS standard it will make future comparisons far more complex.  What is the rationale for asking carbon trust to do baseline when BEIS is available and used as a common standard? The Carbon Trust baseline seems to differ from BEIS data for Hampshire far more than the explanations given would suggest and this has caused confusion.
Concerns about the target
Setting the right target, whether regional, national or international is absolutely pivotal to dealing with the climate emergency.  The science tells us that the 2050 target is the wrong target, with only a 50% chance of limiting to a 1.5'c increase.  
In the HCC strategy it states that the county wants to "lead", but a 2050 net-zero target is far from leading.  HCC is languishing behind all most all authorities (including Conservative-lead), in fact, 90% of authorities have set far more aggressive targets.  Targets that respect science.
We cannot ignore the reality that HCC alone has little hope of delivering on a county-wide net-zero target sooner than 2050 without the government shifting national net-zero targets to an earlier date to facilitate this.  However, the council has complete control over its estate and therefore the 2050 target date is completely unsatisfactory.  We will continue to press for this date to be brought forward to 2030.
The current strategy document has an inexplicable lack of detail when it comes to targets.  It should provide segregated carbon budgets, for County and Estate.  These budgets and reduction pathways should be measured in tonnes, not percentages either for each sector, or for reduction over the years.  
From a County perspective, these budgets should, at a minimum, be aligned carbon budgets that are set by the Committee on Climate Change.  From an estate perspective, these carbon budgets and an associated pathway should be focused on a 2030 net-zero target date.  We will press for granular, segregated carbon budgets.
Concerns about the scope
HCC have declared a climate emergency but actually what we face is a climate and ecological emergency.  The two are aspects of this emergency are completely dependent upon each other.  HCC needs to take a holistic view and plan for the active restoration of ecosystems as well as the rapid expansion of carbon sinks.  We will press for the ecological emergency to be given parity with the climate emergency and for this to be reflected in the strategy.
Concerns about engagement
Whilst significant carbon reductions will come from technology, there is no escaping the magnitude of behavioral change that is required and the need to develop widespread public support.  Deliberative processes such as a Citizen's Assembly have the capacity to facilitate this change.  Politicians have proved time after time that they are not capable of making long term decisions without a strong mandate, stronger than a four-year term.  A well run CA can provide just that. Behavioral studies are of limited use because respondents are often ill-informed which inevitably provokes knee-jerk responses.  HCC's decision to not engage its citizens in this manner is unacceptable and we will continue to press for this to happen.