M3 Die in Before the Deadline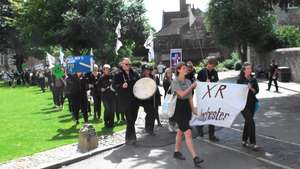 We are facing a climate catastrophe.  Our government and councils have declared a Climate Emergency.  If this means anything it must surely mean objecting to the £100 million due to be spent on changes to Junction 9 of the M3 [near Tesco], that will result in a significant increase in carbon emissions and ecological damage.
Extinction Rebellion Winchester held a Direct Action protest in Winchester City Centre on Saturday 17th August at 2pm.
The 'Die in Before the Deadline' highlighted the need for a complete change in approach by Highways England.  We urge everybody who objects to send a strong message to Highways England by the consultation deadline of 27 August.
XR Winchester's local coordinators said "Building new roads just increases traffic, carbon emissions and will ultimately make Winchester's poor air quality even worse. Our Councillors and Government need to step up and honour their commitment to tackle the climate emergency.  Objecting to this proposal is a first and important step."
Extinction Rebellion are calling for a Citizens' Assembly to help create sustainable alternative proposals.  One example would be to invest the £100 million in increased rail capacity to take heavy container goods vehicles off the roads.
For more details of the Direct Action contact XR Winchester by email at xrwinchester@gmail.com