New Silverhill Proposals - a missed opportunity (again).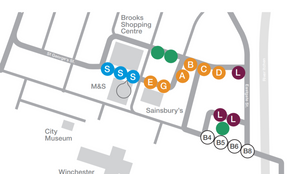 Winchester City Council have put forward plans for the redevelopment of Silver Hill for consultation.  Regrettably the council have ignored significant aspects of the well-considered recommendations from 2018, resulting in plans that will do nothing to encourage bus travel and have no material commitment to reducing the district's carbon footprint.

Bus Travel
The attractiveness of bus travel in Winchester has always been undermined by the poor state of the station and successive administrations have promised time after time that this will be corrected in the Silverhill development and yet a new bus station is now considered only as a medium-term "option".  Instead, the council is proposing on-street bus stop provision, essentially this means twelve pretty bus stops located around the city: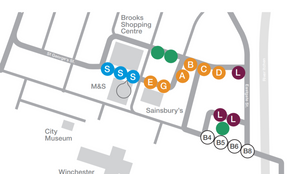 Winchester City Council have completely dismissed the fact that the lack of a bus station was one of the key reasons the public objected to the 2009 scheme and the reason why it formed a central part of the 2018 Supplementary Planning Document.
On-street bus stop provision rather than a bus station is a complete cop-out.  It means:
Long and potentially confusing walks of up to a quarter of a mile between stops when interchanging, particularly affecting the elderly and those with mobility issues.
Some bus users would need to walk a quarter of a mile to get to the high street, double the distance from a new bus station on Middlebrook Street, particularly affecting the elderly and those with mobility issues.
There will be no safe, weather-proof environment to wait for buses as can be found in many modern bus stations.
Streets such as Tanner, Middlebrook and Silverhill will still not be traffic-free so air quality and safety will be compromised significantly.  When Lower High St was a shared space for pedestrians and buses it was wholly unpleasant and dangerous.
The ability to transition to electric buses is likely to be far more costly and complex as charging infrastructure would have to be built into the street itself.
The 2017 Winchester Transport survey produced by Atkins showed that shelter and safety were ranked 3rd and 4th in terms of importance and along with requests for a new bus station these things were mentioned more than anything else in the questionnaires.  The nature of on-street bus provision means that it simply cannot provide improved levels of comfort for bus users and neither can it provide sufficient safety.
Given that there is no advantage to on-street bus provision we can only conclude that this decision has been made purely to maximise profit from the development and certainly not in the best interests of bus users.
Transport is the largest contributor to the district's carbon footprint.  We consider a modal shift to active travel and public transport as a key means of reducing this.  Alongside cost and reliability, we consider the image of bus travel to be a key barrier to increased ridership in Winchester.  This can only be changed by investing in a modern, efficient bus network with a safe, integrated bus interchange.  This opportunity must not be lost.
Sustainability
The Sustainability plan is weak.  It is comprised of loose statements and aspirations rather than specific commitments.  We believe the council should commit to carbon neutrality or even carbon negative for this development, not only would this benefit the district's carbon footprint but would also set a clear standard for all future developments.

Cycle and walking Permeability
The cycling and walking plan is weak.  Again, it is comprised of loose statements and aspirations rather than commitments.  Cycling and walking should be at the very core of this development but they are both likely to severely compromised by the proposed on-street bus provision.
The consultation can be viewed here: 
https://www.virtualengage.arup.com/CWR/
We urge you to make your voice heard, demand:
A modern bus station
A commitment to carbon neutrality 
A comprehensive walking and cycling plan