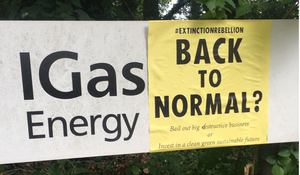 It is time to keep fossil fuels where they belong: in the ground.
Extinction Rebellion Winchester believe the time is up for Hampshire's own dirty oil wells run by IGas Energy.  The company has three sites near Crawley and off the A272 north of Winchester.
With the slump in oil prices the company has stopped pumping from some of their sites.  They have furloughed staff but, in an announcement, claim that despite the close down the action will have a 'positive impact on cash flow' of around £500,000.  Public money is rightly supporting their staff whilst the company is still making money.
Extinction Rebellion Winchester believes we need to invest in a clean green sustainable future. We cannot go 'Back to Normal' by bailing out big destructive business.
The company is heavily backed by dirty money from the Bank of America, Bank of Montreal, J O Hambro and Royal London and from the pension pots of many people who'd be horrified if they knew.
Science has spoken: the path to a sustainable future for people, wildlife, and the climate does not include fossil fuels. They need to be kept in the ground.
We need to move away from coal, oil, and natural gas, and towards a renewable energy future.
The writing is on the wall for companies like IGas Energy. Their share price has crashed at an even greater rate than the oil and gas sector generally.
The International Energy Agency has told us that the demand for fossil fuels will be reduced , because the outbreak of Covid-19 is prompting a collapse in energy demand seven times greater than the slump caused by the global financial crisis.
In their Global Energy Report 2020 the IEA said the most severe plunge in energy demand since the second world war. They see an encouraging growth in renewable energy.
The steady rise of renewable energy combined with the collapse in demand for fossil fuels means clean electricity will play its largest ever role in the global energy system this year. A decade of growth of global carbon emissions may just be ending.
IGas have a poor environmental record having been one of the companies trying to introduce fracking in the UK and who produce gas from coalbed methane.