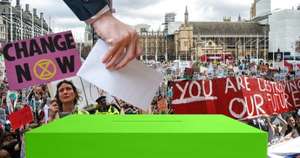 Who are the 9 Million?
The next 10 years are critical for climate change action. The new government will have the power to halt climate threatening activities and demand climate and ecological justice for generations to come.

There is a sleeping army of 9 million people who are not registered to vote in the UK. The deadline to register is midnight on the 26th November 2019.

What Does This Mean?

High electoral turnout is a good sign of health for democracy and the planet. In the era of climate crisis, we cannot overstate the importance of environmentally conscious youth using their vote to elect MPs supporting more ambitious climate action.
This election will decide who is in charge of the government, in theory, until May 2024. This is 4 years into the climate decade, where the most significant decarbonisation is required if we are to meet our commitments under the Paris Agreement - "net zero" greenhouse gas emissions by 2050, let alone XR's demand of net zero by 2025.

Whatever happens in the election or with Brexit, the next government will need to shape its own environment bill. This will determine our environmental regulations on everything from tackling air pollution to our energy sources .

Regardless of Brexit, parties campaigning to lead the UK will face voters increasingly concerned about environmental issues. Recent polling revealed that nearly 70% of people want the UK government to go further and faster on climate action.
So, what do I need to do?

STEP 1. Register Yourself

If you aren't 100% sure you're registered, the safest option is to just register again. It costs nothing and only takes 5 minutes. If you're a student, make sure to register at home and at university so you can vote wherever you are on December 12th!

STEP 2. Recruit

Think of three  people who may not be registered and would be happy to hear from you - send them a personal message now :) Perhaps they recently moved, left to study, or just turned 18. Spread. The. Word.

STEP 3. Go Bigger

Our friends at UK Youth Climate Coalition have created this nifty little guide to help you sign up your nan, Steve the plumber and Alfie the cat. They have even created the tools you need to hold your own registration party!

Thanks to Curious Earth for most of the information in this email