XRW Safer Streets Deputation to Winchester City Council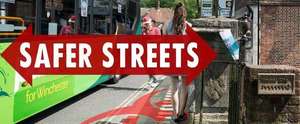 With thanks to Phil Joyce for delivering this statement to the Health and Environment Policy Committee on Tuesday 8th December 2020.
Good evening ladies and gentlemen. Thank you for giving me this opportunity to follow up on the petition organised by Extinction Rebellion Winchester earlier this year.

We note the work that has gone into the physical distancing and are pleased that some of these measures are also starting points for addressing the Climate Emergency. But there is far, far more to be done. Extinction Rebellion Winchester believes that simple measures can achieve much and that these measures are in line with what the majority of residents in Winchester want to see, despite a vocal car lobby.
Time and time again the people of Winchester have spoken on this issue.   Most recently, the One Great Winchester project concluded that there is a, quote "clear message from all working groups that people wish to enjoy the freedom to walk and cycle in a largely car-free city. To breathe cleaner air, allow their children to play on the streets and for the streets to be social spaces, unencumbered by frequent car use."
In 2016, the conference "Winchester: Thinking Ahead" organised by the BID, the City of Winchester Trust, the University of Winchester and WinACC decided that tackling traffic congestion was the top priority for the City.  And in 2016- 2017, five polls by WInACC of 1886 people consistently found the most votes cast for restricting vehicle access and creating more pedestrian areas.
Furthermore, a nationwide 2020 DfT survey concluded that 8 out of 10 people support measures to reduce road traffic and two-thirds support reallocating road space for active travel.  Grant Shapps, the transport secretary, is urging councils not to be fazed by the small vocal opposition.
The emphasis now should be on reducing traffic volumes as quickly and cheaply as possible. Engineers are too fixated on expensive kerb realignment and fancy paving stones. Both of which can come later.  Reducing traffic volumes with lightweight interventions such as bus gates and inner city car park closures is absolutely critical.  If traffic volumes are not decreased first it will mean that desirable measures such as reallocating space will lead to severe congestion and the small vocal opposition will be provided with ample ammunition as a result.
In summary, you must listen to what the local and national polls are telling you about what people want for their town centres and residential streets and respond with bold, transformative actions that will benefit our wellbeing, our health and our planet.  
Thank you very much indeed for listening.